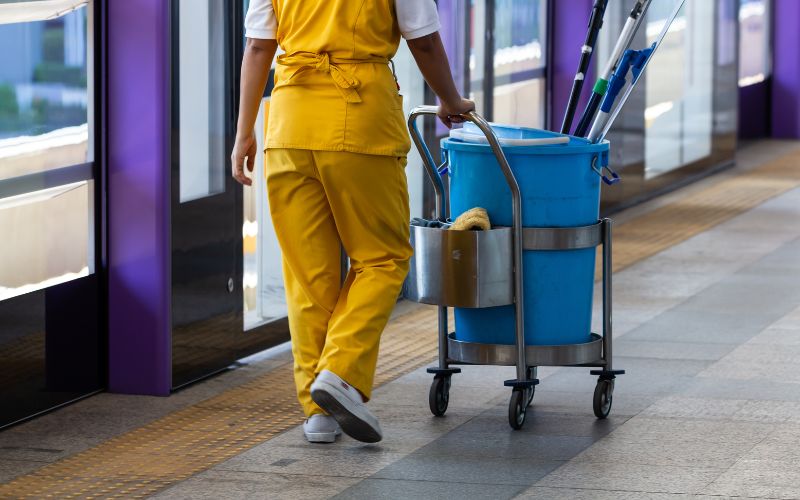 As businesses reopen and employees return to work, ensuring a clean and safe environment has become more important than ever. At Noble Janitorial, we understand the challenges that come with maintaining a healthy workplace, and we are committed to providing top-quality cleaning services to businesses of all sizes and industries.
Our services include everything from daily office cleaning to specialized disinfection services for COVID-19, ensuring that your workplace stays clean and safe for your employees and customers. We use eco-friendly cleaning products and the latest technology to provide the most effective and efficient cleaning solutions.
We serve a wide range of industries, including office buildings, medical facilities, schools and daycares, fitness centers, and more. Our team is equipped with the knowledge and expertise to provide customized cleaning plans tailored to the unique needs of each industry and business.
At Noble Janitorial, we take pride in our quality assurance systems, which ensure that our services exceed your expectations every time. Our team undergoes comprehensive worker screening, and we provide ongoing training to ensure that our staff is always up-to-date on the latest cleaning techniques and safety protocols.
We are committed to providing exceptional customer service and building long-lasting relationships with our clients. Our goal is to take the stress of cleaning off your plate, so you can focus on running your business.
In conclusion, keeping your workplace safe and clean is crucial for the health and well-being of your employees and customers. With Noble Janitorial, you can rest assured that your workplace is in good hands. Contact us today to schedule a free assessment and learn more about our services.